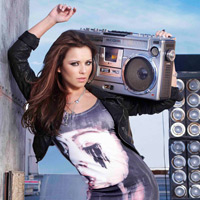 It seems the debut solo single, 'Fight For This Love' by Cheryl Cole has got everyone talking since recieving it's first play on Radio 1 yesterday. People are split… between love and hate!
It's a classy affair, it does get stuck in your head after a few listens. The song is a million miles away from Girls Aloud and rightly so, and it obviously reflects her own musical tastes. The vocals are delivered with confidence, although use of the vocoder has cause many to question her actual abilities… give her a chance!
The album 'Three Words', will be released on 26th October 2009. In the press, much has been made of the fact that Cheryl's album will be released on the same day as Alexandra Burke's album… and trying to create a chart battle in the process!
For more visit, www.cherylcoleofficial.com where the track can also be previewed.